Jhalmuri




It's a bit of a tricky task, writing on Calcutta's street food. For one, there's a technical problem. What exactly is 'street' food? If we speak of papri chaat, will the 'street' tag exclude the most excellent sample  of this, to be found at the Junior Brothers' (now air-conditioned) snack bar off Rashbehari Avenue, near Hindustan Park, in favour of the million street-side specimens one finds in this city; at Vivekananda Park, at Lindsay Street, outside Vardaan Market, at the Maidan? Perhaps not. That way, we could miss out on some epic avatars that are not served street-side, strictly speaking. The definition will, however, exclude any semblance of muri served in five-star hotels by solemn, uniformed waiters at a press conference. Or phuchka offered up with vodka shots at a fashion event. Or momos with molten chocolate filling. We shall not step into the quagmire of debating the 'authenticity' of such platefuls. Let's just ignore such desecration, and talk of good old Kolkata'r raaasta'r khabar.
What better than to start with a cereal so regular, so everyday that we almost gloss over its status as a carb and undermine its innate quality of a great social leveller?
Puffy, crunchy, spiced with a unique ground powder of jeerey-red chilli-bitnun (rock salt), minced cucumber, onion, ginger, finely-chopped green chillies, thinly-sliced boiled potatoes, less than a palmful of roasted peanuts and chhola-matar and chanachur, all mixed in with a dash of mustard and/or pickle oil and a tentul (tamarind) broth heavier than your phuchka potion and topped off with a touch of lemon, a pinch of fresh coriander leaves, a sliver of coconut and jhuribhaja. A no-brainer as choice of evening snack for the average Calcuttan, the jhalmuri, or moshla muri if you prefer the latter, straddles as wide a genre definition as pop music.
Spicy, salty, sour and a tad sweet in exquisite proportions, the guiding principle for a good jhalmuri is temperance. It is in the onomatopoeia, in the units of measurement necessary to convey that message. This restraint, somehow, is a reflection of the character of the city itself, of the Calcutta core, of Bengal.
Bengalis tend to travel. Jhalmuri, too, has travelled far-and-wide, touted as a 'Kolkata snack'— not just to other Indian cities like Delhi or Visakhapatnam, but across continents. Angus Denoon makes a living selling it right out of his portable stall (an exact copy of the Kolkata muriwallah's contraption, by the way) across London, from the Oval to Glastonbury to the Devon beaches. His 'brand' is named 'Everybody Love Love Jhal Muri Express'; guests loved it at Lilly Allen's wedding. A quartet of Bangladeshi cousins serve up the snack via 'Jhal NYC' in Queens, New York.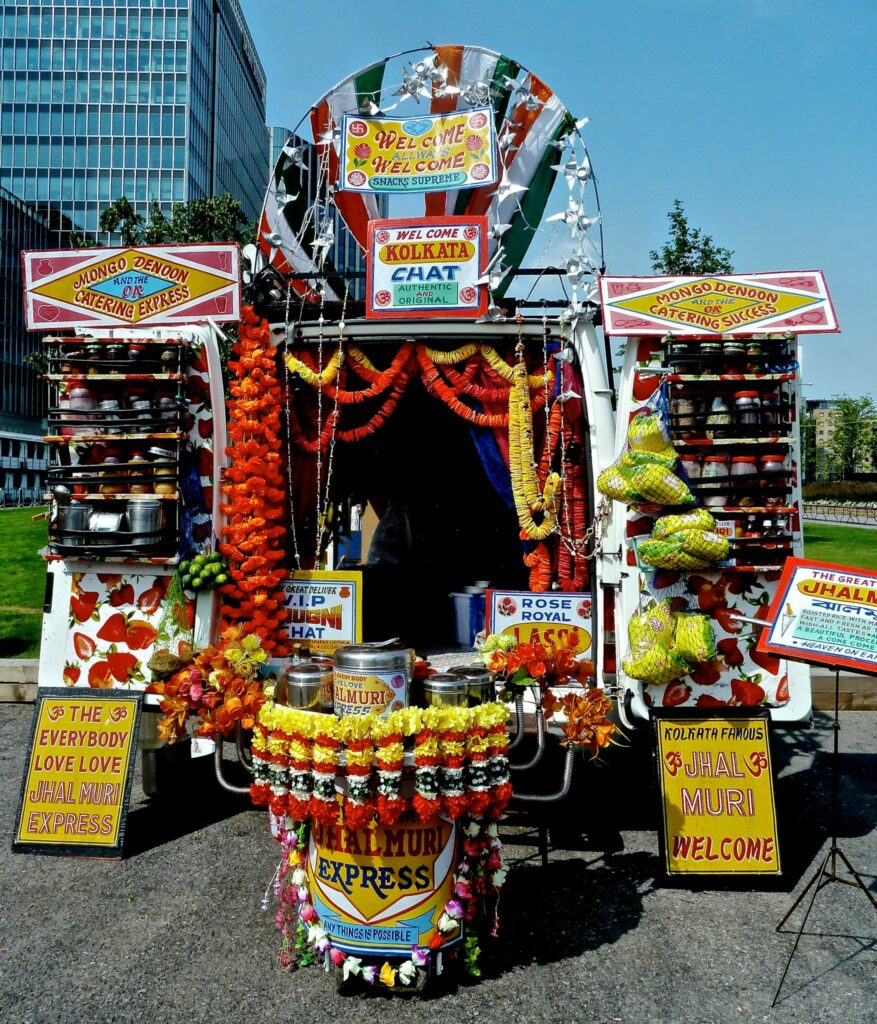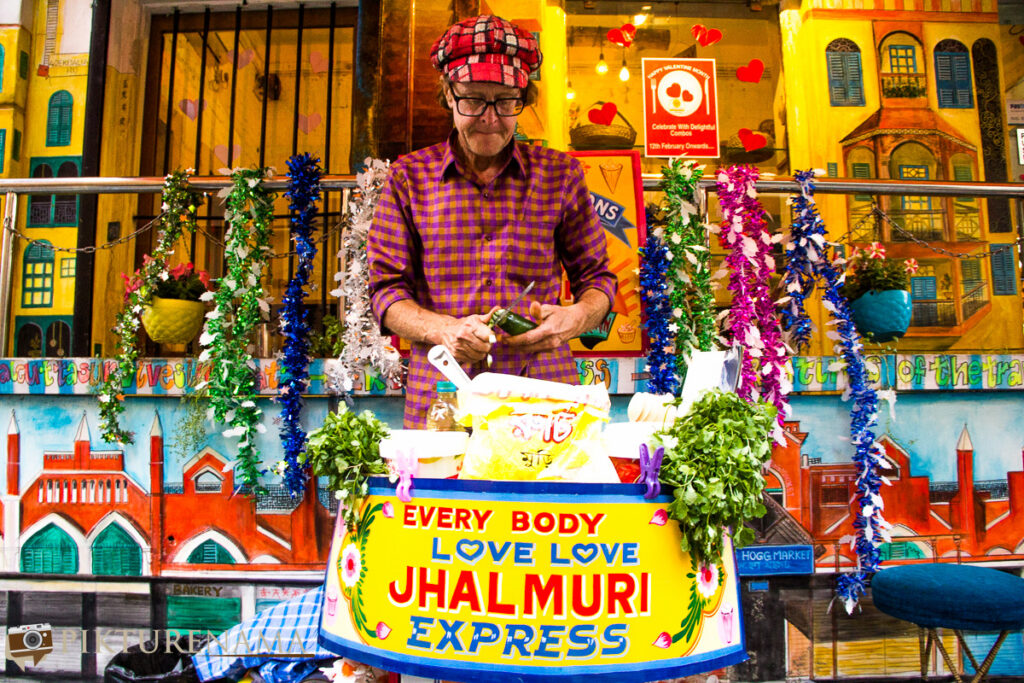 Incredible as it may have seemed a couple of decades back, this is somehow not surprising, any more, simply given the amazing range of palates the humble jhalmuri can cater to. Since it is readily custom-made, your specific jhalmuri is a democratic right, with or without the alu, the kancha penyaaj,the tentul jol, or the spices and the addition of oil, altogether. It really depends on your taste — as it should.
The basic cereal in jhalmuri – the muri itself – has long been a part of the Bengal milieu. Even though puffed rice is a staple in the Great Indian East of Bengal-Bihar-Jharkhand-Odisha, the mythical Bangla-Bihar-Urishha of yore, so to speak, jhalmuri, to Calcuttans, remains essentially 'Bengali'. Cultural geographers would be keen to observe how an overwhelming majority of Calcutta's street food vendors serving up 'Bengali' snacks are not Bengali by birth — they hail from all of these states neighbouring West Bengal, being part of a vast, vital, specifically skilled network of professionals. But those with a taste for detail would also point out that yes, there is a marked difference in the muri rustledup by your local jhalmuri maestro vis-a-vis the one put together by the chhola-badamwallah; the peanut vendor, almost exclusively non-Bengali by origin. The 'Bangali' jhalmuri stands out in its use of mustard oil and the jeerey gunro, resulting in a pungency certainly not meant for the faint-hearted. The very spices, too, are a bit different from the badamwallah's mix.
In Medinipur, they say, one has to have muri-chop as all three meals to fit in. The practice of consuming muri instead of rice, especially for the evening meal, has long stood in farmer households where the womenfolk worked as hard as the men in the fields. This was grace, where the women did not have to toil in the kitchen after a tortuous day under the sun. Also, muri, followed by water, was a basic, frugal meal that kept bellies full when there was no other option.
Muri goes back a long way to don the hat of a 'Kolkata snack', at least to the early decades of the 20th century. The quintessential Kolkata adda has never been quite complete without chop/singara/chanachur/telebhaja-muri and cha. In the golden age of Bengali literature in the 1930s, at the hallowed boipara of College Street, every evening would turn into a literary workshop, with celebrated authors sitting in at the offices of publishing houses – a literary jam session, so to speak. Sagarmoy Ghosh's Sampadoker Boithake outlines legendary literary debates at the Anandabazar office where newspapers – what else? – served as plates for copious amounts of muri and cha; intrinsic elements of an erudite gathering.
Jhalmuri, on the other hand, is a more recent addition to the Calcutta foodscape. There's a historical theory that attempts to tie up the beginnings of the humble snack to post-WW-II, 1940s Calcutta, with migrants from Bihar/Uttar Pradesh serving up the mixed muri to soldiers in town and babus on a job break. Unlike its unsullied parent cereal, it has not really become entwined with higher literary aspirations. There are tales of a certain Shibram Chakraborty munching on a handful of his favourite jhalmuri right below his lifelong Muktaram Babu Street mess address, though the snack didn't quite make it in a starring role in any of the author-raconteur's stellar literary work. Narayan Gangopadhyay's bravado incarnate Tenida regularly gorged on the local jhalmuri – and its immediate cousin, the alu-kabli – at Potoldanga Street while spinning tall tales to the awestruck yet slightly bemused trio of his followers, three-fourths of the 'Chaarmurti'. But in its most 'real' form, a good jhalmuri is gritty, grimy, spicy, everyday, work day food; a one-dish wonder for man, woman, and children of a certain age. It is eaten post-school and on the way back home from work as a quick evening snack, on a break from a desk job as lunch, even as a late filler before dinner in workplaces where shifts are not bound by time.
Whatever be its origins, there is no doubt that jhalmuri has climbed the ranks fast, given its very nature: it is easy to make, easily available, light on the stomach and super affordable. Even now, in certain districts and even suburban pockets, you could get an average-sized thonga of jhalmuri for a 5-rupee coin. The only other thing you could buy for that price these days are probably matchboxes and gutkha.
Eschewing aspirations, and thus turning considerably more pedestrian – literally – jhalmuri is also inherently localised and intensely competitive. Everyone swears by their para'r muriwallah, not unlike their para'r phuchkawallah. Customisation can reach geeky levels. 'Alu deben na' (No potatoes, please), 'tomato deben na' (No tomatoes, please), 'shosha deben na' (No cucumber, please), 'aro beshi chanachur din' (More chanachur, please) are regular diktats. If you want to get picky, check out 'Tomato deben kintu bichi chhara, ar dhonepatar daanta deben na; tel adh chamoch ar thik ek phonta lebu' (Put tomato in it, but deseeded; no coriander stems, please; also, just half a teaspoon oil and a touch of lemon). Then of course, there's the 'diabetic' or 'medical' muri – no potatoes, no spices, no oil, just chanachur. One hears it has reached satvik proportions ever since India started shining in 2014, chucking the poor onion.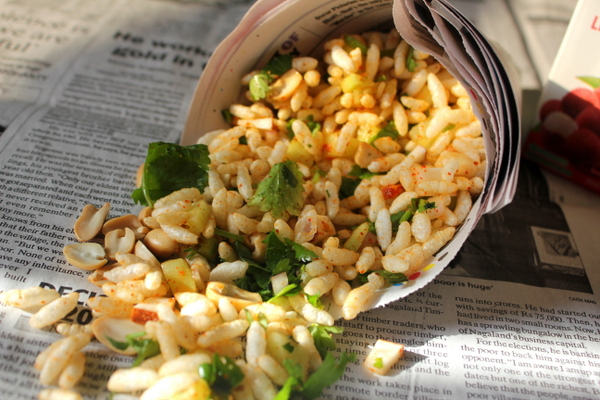 Personally, apart from the moshla muri on trains – any train, to anywhere, from any muriwallah – Lokkhida's jhalmuri at the corner of Panditiya Road and Rashbehari Avenue has been my go-to for a while now, some three-odd decades. He has been here for 30 years, selling muri to kids like me who've grown up, gotten jobs and started families. Through these decades, he's shifted his spot a couple of times, all within the quadrangle of this specific intersection. He's seen me as a child, out for a stroll holding the hand of a parent or an aunt or an uncle, getting a taste of spicy chanachur from the adult's thonga. He's handed me my own thonga post a sweaty football match in Triangular Park, or grabbing a quick one on the way back from tuitions. He's seen me in a job, out of jobs, in between jobs, married, starting a family. The conversations began with 'Kon school e poro?' three decades back, to 'Kon subject porcho?', to 'Kothaye office?' to, last year, 'Dada, ar kotodin ei lockdown cholbe bolte paro? Tomra toh khoborer kagoje acho…'
I didn't have any answers to the last question. There is no solid answer to questions like these, no immediate future that shines bright for an ageing, specialised labourer in a post-pandemic world. Especially for folk like Lokkhida, the future, bleak any way, seems positively gutted. I tend not to answer such questions from him. Instead, I engage in otherwise light conversation, making sure I pay more than the Rs 30 his average-sized thonga is priced at these days – a tenth of the price of Denoon's London variant. And always walk away with an extra coconut slice, wedged atop my everyday magic muri.
Illustration by Suvamoy Mitra