Dayamaybabu's second life
Out-of-job voice artist Dayamay Kanjilal woke up after his operation feeling wooly and disoriented. As his focus improved Dayamay felt he has the answer to some of the key questions of life. He left the hospital bed and wobbled towards the table where sat the Bahadur transistor that he carried everywhere with him. Something odd happened, listening to a current affairs program he could hear his own voice interjecting the transmission. He soon realised that he has developed a superhuman quality -he can intercept and modify radio waves.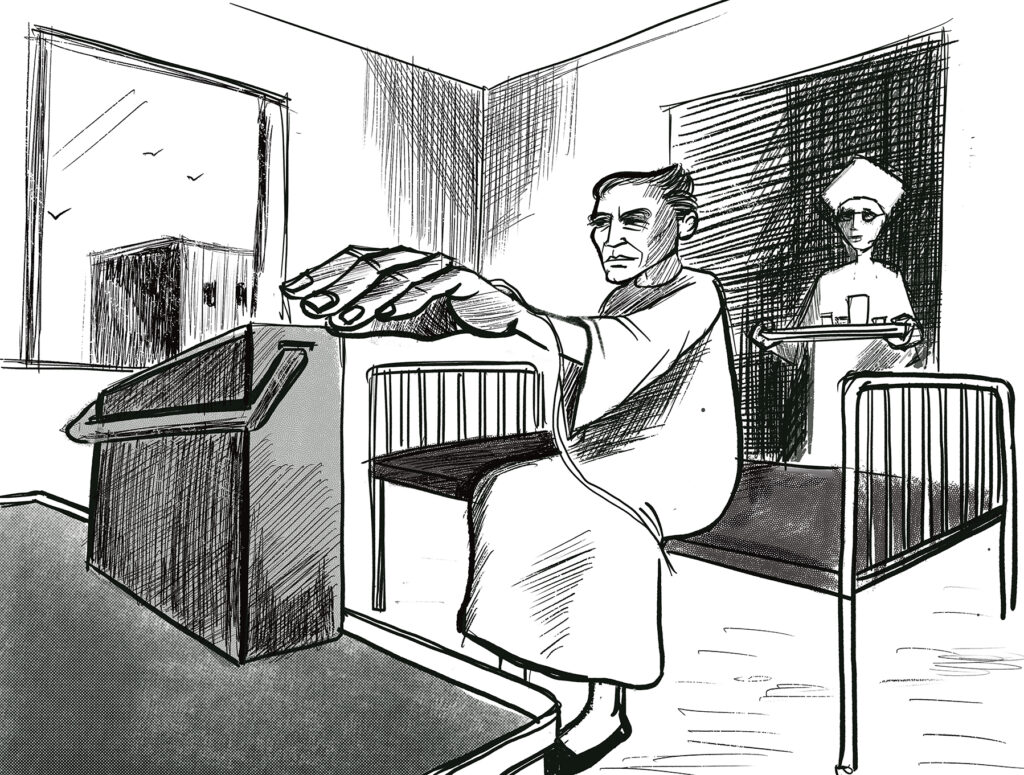 Ostad Ratan's last trick
Noted sculpture Ratan Ostad died without leaving a biological heir. His assistant for thirty years, Biren Haldar was deeply disappointed, the ostad had left nothing for him.
Next few weeks, Biren spent his days berating the old man and feeling bad for himself. What a waste of life, thirty years is a long time. A few days later Biren received a letter from Ratan, who had arranged to send it after his death. The letter said that Biren does indeed have an inheritance and it left instructions on how to get to it. While making his last commission, Ratan has made a secret chamber in the body of the statue.
The question is how the hell would Biren reach the secret chamber? He cursed the old ostad once again but at the same time liked the challenge.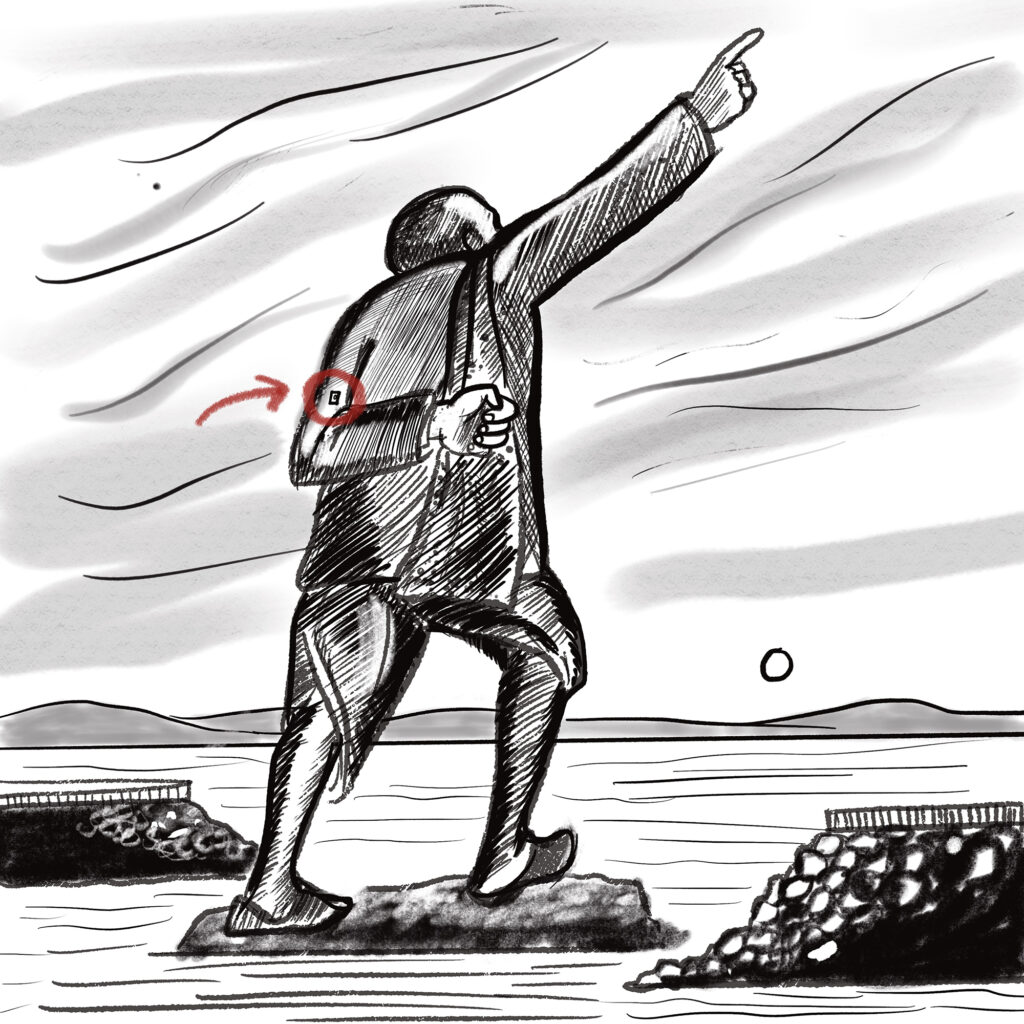 Barada Nandi's re-memory
Baradababu felt dizzy as he stood in the middle of the market. It was already a bit odd when Sahni-ji, the owner of Morning Store, looked way younger than his 60s, on top, he told Baradababu that he has never heard of Meswack, the brand of toothpaste Baradababu has been buying from Morning store for the last 10 years. Overnight, half the products were gone, leaving neat unfussy shelves.
The newsstand owner, too, looked younger. The dry-cleaners, the Mother Dairy, the electrician's, the medicine store, all looked clean and non-shabby. Some shops had closed down without leaving a trace. As if they never existed. Everybody looked a few kilos lighter and healthier. Their activities were slow and non-hectic. The air smelled different. Everything was alien yet familiar. Baradababu felt anxious and thrilled at the same time,
To his surprise, he saw that the front page of all newspapers reported an event that happened 15 years ago. Upon close inspection, Baradababu found that the dates of the papers have turned 15 years back.
Baradababu isn't going mad. He just isn't up-to-date with the news. Last night the govt. has decided to restore the original name of the city which they had changed 15 years back.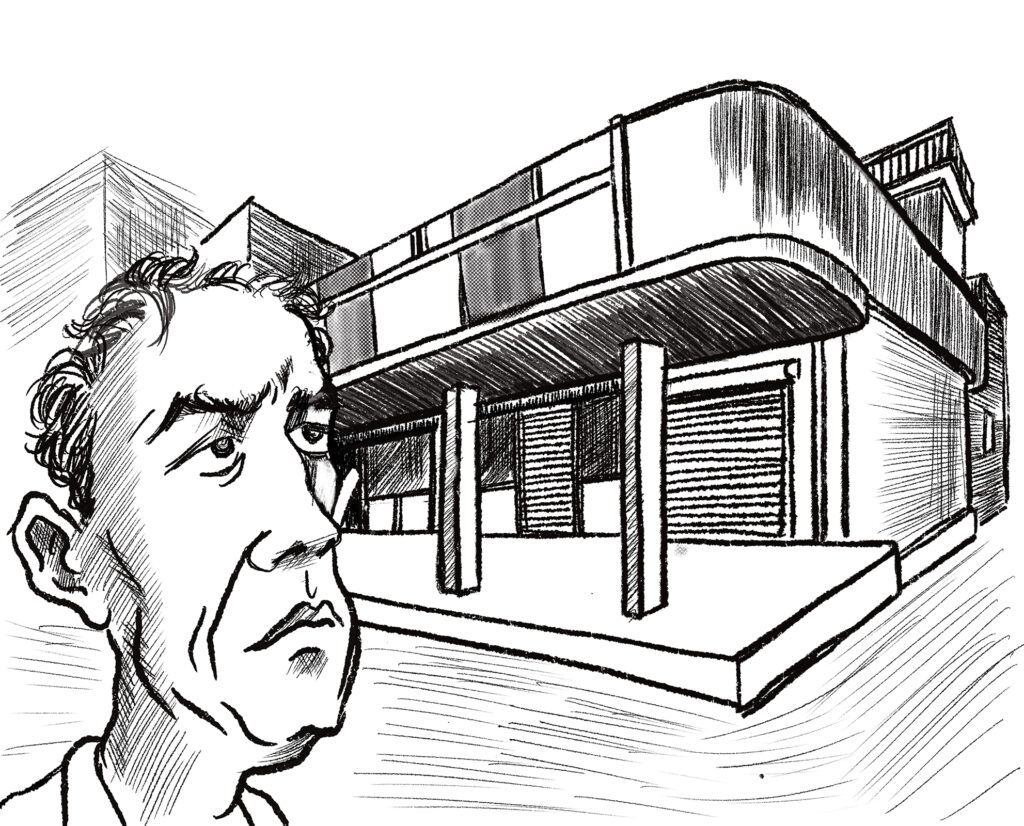 These three scenarios are written by me using a Satyajit Ray filter. I am deeply influenced by Mr. Ray's short stories and illustrations. Let's take two examples – Shibu Aaar Rakhhosher Kotha and Septopus-er Khidey. Even though I remember these stories imperfectly, some of their details are etched in my mind. Over the years, I have transplanted my own imagination into them and made them into very different beasts.
In the Rakkhosh story, a school-going boy Shibu has a sneaky suspicion that his maths teacher is not a human being at all but a monster. This brings him to the point of a nervous breakdown. Along with a great plot, Rakkhosh catches wonderful details of small-town life.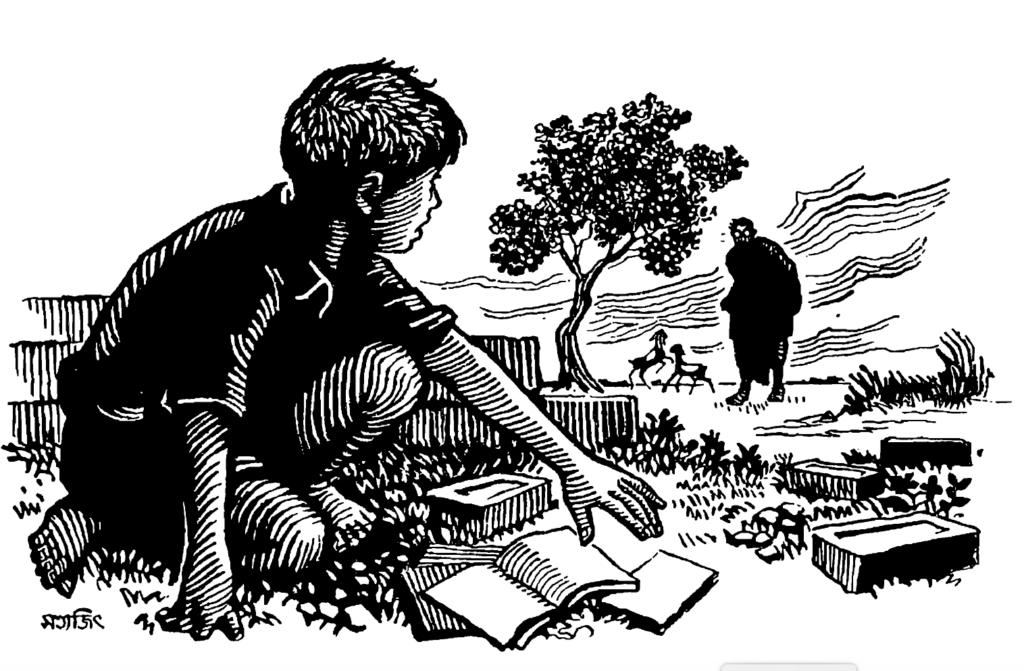 In Septo, a well-known botanist rents a farmhouse in a remote landscape and dedicates his life to researching carnivorous plants. The professor finds out that one of his carnivorous plants, the biggest in fact, has gone rogue. Not being satisfied by chicken and rabbits anymore, it has now started attacking the person who feeds it.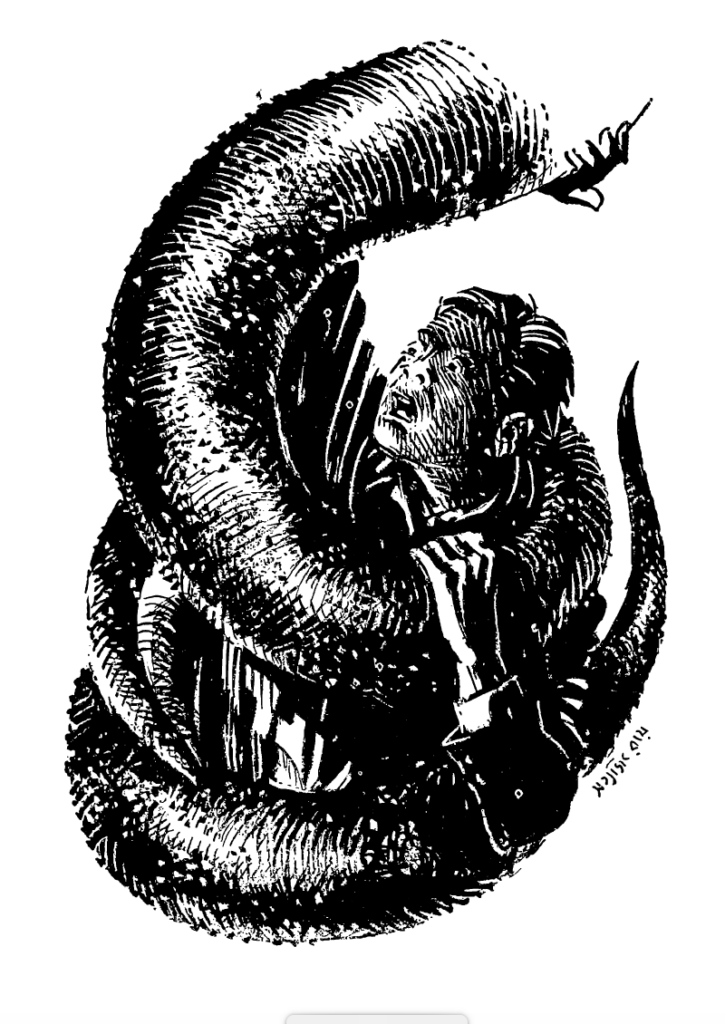 Both the stories are built on plausibility. Although they start real enough, they become unheimlich halfway through the tale. The term unheimlich was first used by German psychiatrist Ernst Jentsch in his essay 'On the Psychology of the Uncanny'. 'Unheimlich', which literally means 'un-homely', is the German word for uncanny. Unheimlich suggests that the uncanny builds its nest in the most normal circumstances, such as the home, and at some point, something that feels recognisable becomes completely alien. The mundane inverses itself, resulting in an atmosphere of disconnected dissonance that produces a sense of wrongness.
Jentsch expressed a doubt as to "whether an apparently animated object is alive and conversely whether a lifeless object might not perhaps be inanimate."
In 2016, I spent some time on a small fishing island in western Japan. I met a varied group of people during my stay and produced a work called the zen tub. It is a series of drawings about a small group of men soaking themselves in a sento (communal bath) in a Ryoka (traditional Japanese inn) located high up in Shod-o-Shima Island.  
Among the men are a once-famous kabuki actor, a soy-sauce factory owner, a maker of Ninj-o-Bon (sentimental Japanese drama), a chef, a writer of textbooks, a salaryman, and a few others. Among them is a man who calls himself a 'placer' by profession. His job is to sit at interviews and 'place' the candidates in their class, education, circumstances, and gauge their social value. As the tale progresses, It is slowly revealed to his bath-mates that the person is not a human being but a daemon.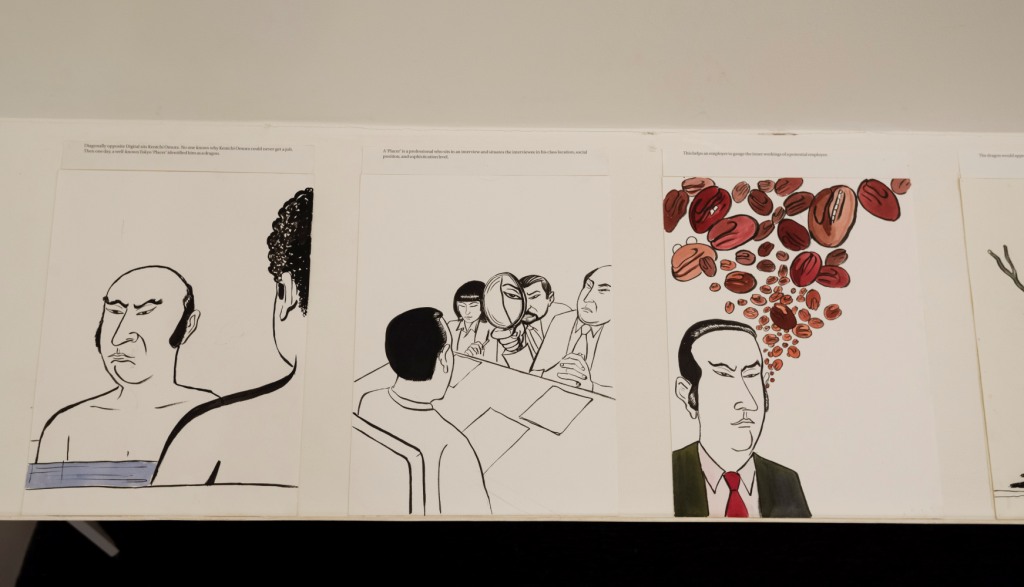 In 2019, I had a solo show at the Dr. Bhau Daji Lad Museum in Bombay. I worked on a series of mock interviews with people who have had otherworldly experiences in the city. The work, referred to as Spectral Times, is based on a conjecture that beneath the visible city of Bombay there lies a phantom city. Every now and then, in the most unexpected ways; a person catches a glimpse of the other Bombay.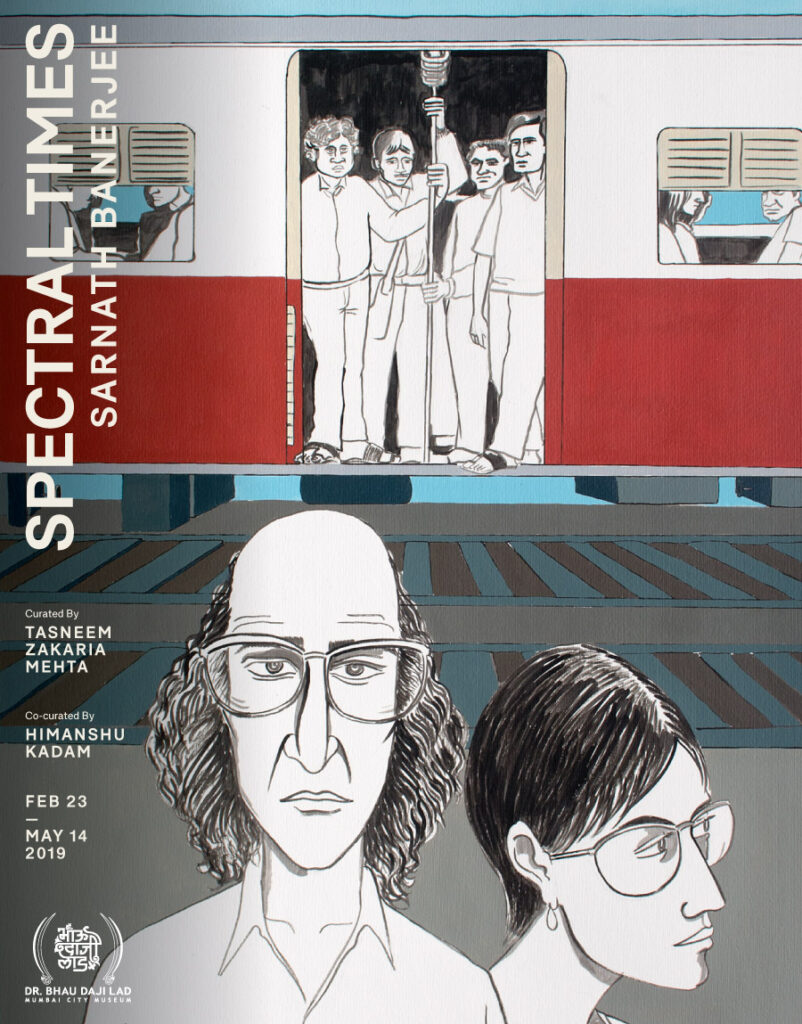 One of these interviews is called Shehri Adamkhor. In this story, a man describes how he quits smoking and develops an appetite for human beings. He has turned into a Vorarephillic, someone who likes to devour people. The only way he can connect to people is by eating them. When all treatments fail, as a therapy, he begins writing a cookbook, in which he lists recipes for cooking friends.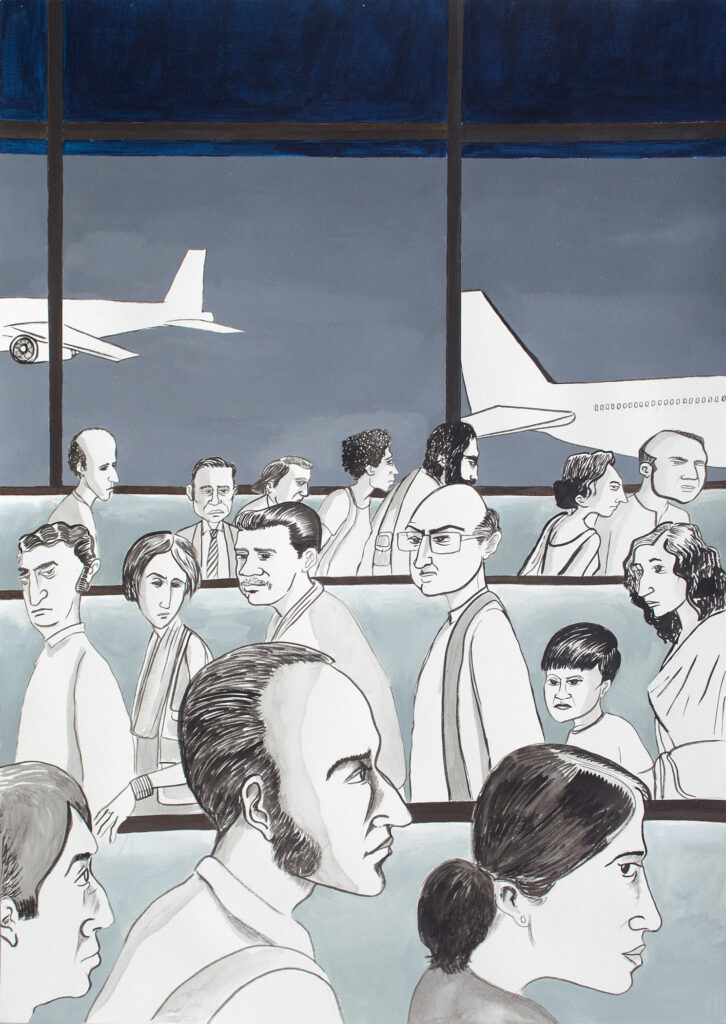 Both the Placer and the Vorarephillic have their roots in Ray's Rakhhosh.
Septo too has had a strong influence on my future work. In 2018, on a Deutsche Bank commissioned I worked on several murals on the theme of gardens. I explored places, objects, and personalities connected to gardening. One of the murals is about Paul Sullivan.
"Paul was once a jet-setter, his pager never stopped beeping. But in a few years, he was burnt out. He gambled on a few bad assets and soon the city wasn't as friendly as it once had been. He had to escape while there was still time. On the suggestion of a well-wisher, he enlisted for gardening therapy and moved up North. There, in relative seclusion, he discovered his latent love for gardening and grew carnivorous plants.
Gardening therapy is a corruption of the term gardening leave, a euphemism used by the British civil Services for suspended bureaucrats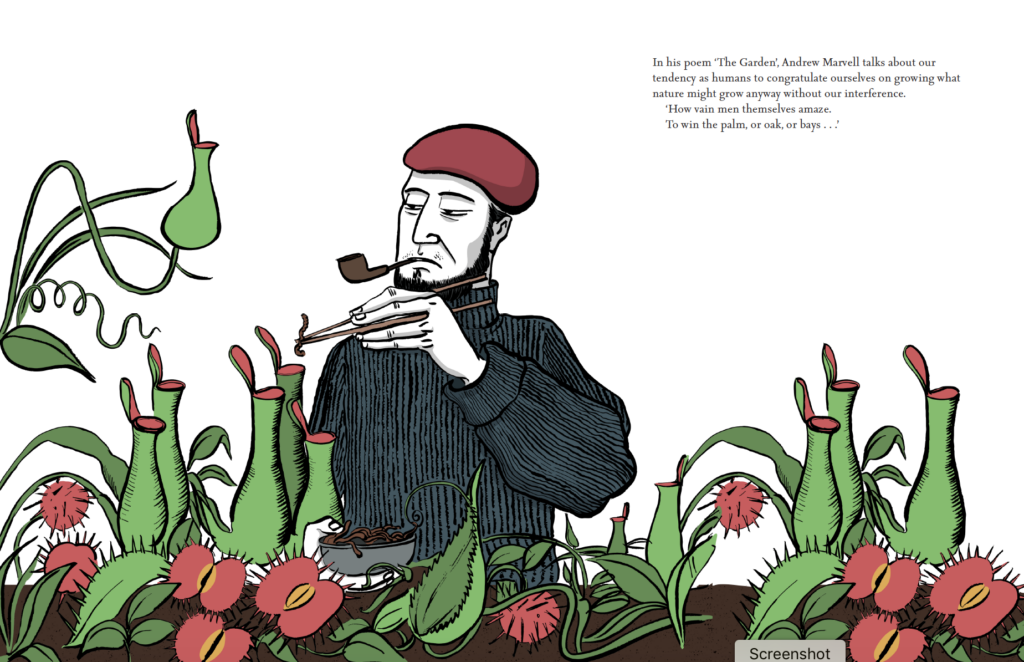 Satyajit Ray has always influenced my work visibly and invisibly and continues to fire my imagination. It has affected the way I create characters and locales and how I narrativize the object. Ray is very important but I like Tapan Sinha too.
Illustrations, except the Satyajit Ray drawings, by Sarnath Banerjee